Safety / Terms of
ALL INFLATABLES MUST BE SUPERVISED AT ALL TIMES BY A RESPONSIBLE ADULT OVER THE AGE OF 18 YEARS OF AGE!
To see a copy of our Terms and Conditions,risk assessments,dos/donts for are castles,you can download a copy below.Or By placing a booking with us either verbally,via email,via phone or using our online booking form -you are bound to and agreed to and abide by these Terms of djlandofcastles ltd at all times.To all our customers are required to read and, agree to and sign the hire delivery note doc,Which djlandofcastles ltd brings with us when we set your castle or slide up.Or when we send a email to you to confirm your booking when you book online with us.It has are hire terms doc on the email and you can download the risk assessments for want castle you have ordered and the dos/donts pictures doc below.So you can read it in adveance before we get there.So when you sign the delivery note you agree to all the terms and risk assessments and dos/donts doc pictures you have look at below and the terms doc we send you in email when you book online with us.And you agree to abide by at all times.When we set our bouncy castles assault courses,and inflatable slides rodeo bull up,It details the safe use and operation of our bouncy castles,inflatable slides assault courses,rodeo bull.And these guidelines on how they work as well as the responsibility of the hirer takes on when he/she hires a bouncy castle,or inflatable slides assault courses and the rodeo bull.From dj land of castles ltd,If it start raining or the wind picks up you must turn the inflatable castles off and leave it off till the weather conditions inprove,these are part of the terms and conditions,from Dj Land of Castles Ltd you agreed to abide all the time,while on hire to you.
On the day of delivery you will be required to sign to say that you have read, understand and agree to our terms and conditions.
Leisure Insure Full Document Wording - Click Here Our terms can be seen at: Hire terms
Hire terms over £100 : Hire terms over £100 Risk Assessments : Mega slide do's and dont's .Slide erection checklist : Slide erection checklist
Click on any of the links below for a detailed risk assessment for each kind of inflatable.
Safety Sheets :
Bouncy Castle Safety Sheet Rodeo Bull Safety Sheet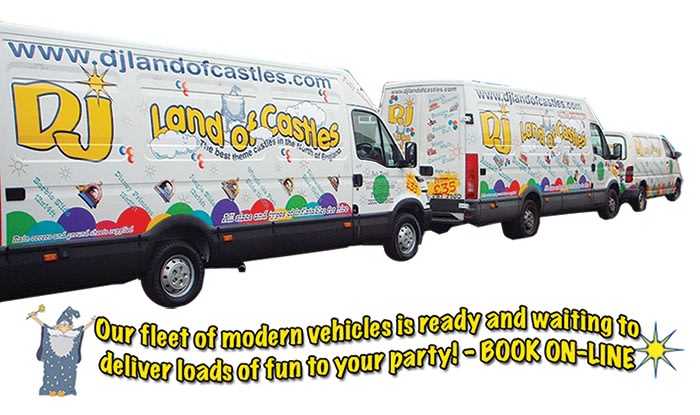 dj land of castles van