Big Inflatable Slides
Inflatable Slide Bouncy Castle warrington.
ALL OUR BIG MEGA INFLATABLE SLIDES MUST BE SUPERVISED AT ALL TIMES BY TWO ADULTS (OVER 18 YEARS OF AGE),ONE ADULT AT THE TOP OF THE PLATFORM AND ONE ADULT AT THE BASE OF THE LADDER AT ALL TIMES.
If you have a any of are bouncy castles or mega slides out overnight they get pick up any time between 7/12am the next morning as they my be booked out on that day.
If it start raining or the wind picks up you must turn the inflatable castles off and leave it off till the weather conditions inprove,these are part of the terms and conditions,from Dj Land of Castles Ltd you agreed to abide to all the time,while the iflatable castles are on hire to you.
Safety instructions are clearly displayed on the castles and all big mega inflatable slides.We also do a full risk assessment on site with all our big mega inflatable slides when you book with us.
For your safety these instructions must be abided by at all times. We have 10ft platform slides also 13ft platform slides and the 17.5 platform inflatable slide which is the tallest slide out there.
Our bouncy castles and rodeo bull hire and our mega inflatable slides our here to hire and available 7 days a week! 365 days a year!
We cater for all events and occasions that includes, Parties, Schools, Clubs, Birthdays, BBQ'S, Weddings, Christenings, Fundays, Sponsored Bounce, Fetes, Social Events, Play Schemes, Youth Groups, Scouts, Brownies, Groups, Company Celebration Days, Corporate and lots more events too.Our slides thrill all children and are guaranteed to be the centre piece of any event.
These huge inflatable slides are suitable for school fetes, corporate events, charity events and private parties and many more.
If you would wish you keep your bouncy inflatable slide castle over night that can also be arranged at an extra charge,depending on the bouncy inflatable castles hired.Check are website for the overnight charges,it tells you on each inflatable slides castle what the charge is.
Our inflatable slides also feature great Disney and cartoon graphics which children love.
We have mickey mouse inflatable slides that are 24ft long,28ft high and 15ft wide.13ft platform slides high
We have a big multi-coloured inflatable slides that are 22ft long x 20ft high x 12ft wide.10ft platform slide high
We have a big jungle inflatable slides that is 20ft long x 22ft high x 18ft wide.13ft platform slide high
We have also got the giant camelot inflatable slides which is the biggest slide in north west england the size is 40ft long 30ft high and 25ft wide its platform is 17.5 ft high.
Our payments methods are: Cash (On delivery), Debit / Credit Cards (7 days in advance - please ring), Cheque (10 days in advance - contact us for details.
Our fleet of modern vehicles is ready and waiting to deliver loads of fun to you party so book your inflatable slides today.!All Our inflatable slides castles are suitable for indoor events,(providing the necessary space is available for them),and outdoor events.All our themed bouncy castles,inflatable slides,and are rodeo bull hire,are cleaned and checked on a regular basis.
We deliver our themed bouncy castles,inflatable slides,rodeo bull hire,plus are assault courses,and adult bouncy castles,and domes castles,to Merseyside & Liverpool, Widnes, Runcorn, Wirral,Warrington,and St Helens,and some of these areas and further areas will be a additional fuel charge or toll/tunnel charge.Check our delivery checker on our home page,it will tell you if there is a charge for your area.
ALL OUR BIG MEGA INFLATABLE SLIDES MUST BE SUPERVISED AT ALL TIMES BY TWO ADULTS (OVER 18 YEARS OF AGE),ONE ADULT AT THE TOP OF THE PLATFORM AND ONE ADULT AT THR BASE OF THE LADDER AT ALL TIMES.OR IT CAN COME FULLY MANNED BY OUR TRAINED OPERATORS FOR A EXTRA CHARGE OF £15 PER HOUR,PER PERSON.ALSO WE CARRY OUT A FULL RISK ASSESSMENT ON DELIVERY OF ALL ARE MEGA INFLATABLE SLIDES.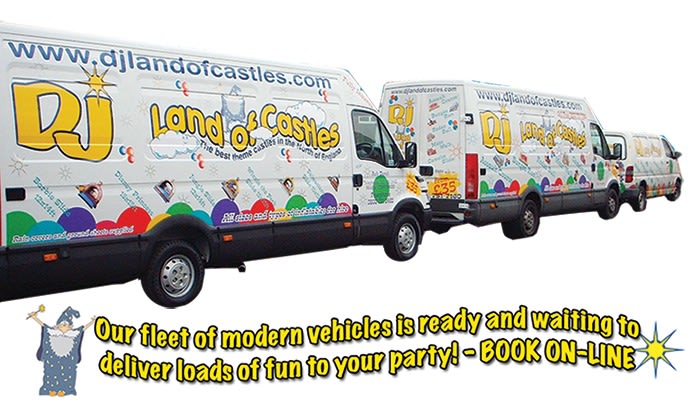 DJ land of castles Vans