Assault Course
assault courses castles hire liverpool
ALL ARE INFLATABLE ASSAULT COURSES MUST BE SUPERVISED AT ALL TIMES BY, RESPONSIBLE ADULT OVER THE AGE OF 18 YEARS OF AGE.If you have a any of are bouncy castles or mega slides or assault courses out overnight they get pick up any time between 7/12am the next morning as they my be booked out on that day.
We have a range of assault courses that are suitable for all children.With all our assault courses they our to see who can get down them the quickest and they are not a bouncy castle.But they are all great fun.They are a great attraction to any event as they are full of fun and adventure.Without a doubt our assault course and obstacle course inflatables will cause a stir at any large event and are ideal for entertaining large numbers of participants.
Assault courses can be used at any events and occasions that includes, Parties, Schools, Clubs, Birthdays, BBQ'S, Weddings, Christenings, Fundays, Sponsored Bounce, Fetes, Social Events, Play Schemes, Youth Groups, Scouts, Brownies, Groups, Company Celebration Days, Corporate and lots more events too.
The sizes of our assault course are 25ft, 27ft, 30ft,40ft and 50ft.All our childrens assault courses bouncy castles are suitable for indoor and outdoor events (providing the necessary space is available).And our bouncy castles,assaault courses,inflatable slides,and are rodeo bull hire,are cleaned and checked on a regular basis.If you would wish you keep your inflatable assault course castle over night.That can also be arranged at an extra charge,depending on the assault course inflatable castle hired.Check are website for the overnight charges,it tells you on each assault course what the overnight charge is.
We deliver our themed bouncy castles,inflatable slides,rodeo bull hire,plus are assault courses and adult bouncy castles and domes,to Merseyside & Liverpool, Widnes, Runcorn, Wirral,Warrington, and St Helens, and some of these areas and further areas will be a additional fuel charge or toll/tunnel charge.Check our delivery checker on our home page,it will tell you if there is a charge for your area.Our fleet of modern vehicles is ready and waiting to deliver lots of fun to your party! so dont delay and book your assault course castle today.Our bouncy castle hire includes:Blowers, pegs, ground sheets, raincovers, safety plugs and delivery and collection.
Our payments methods are: Cash (On delivery), Debit / Credit Cards (7 days in advance - please ring), Cheque(10 days in advance - contact us for details.
If it start raining or the wind picks up you must turn the inflatable castles off and leave it off till the weather conditions inprove,if they dont leave off.These are part of the terms and conditions,from Dj Land of Castles Ltd you agreed to abide to all the time,while the inflatable castles are on hire to you.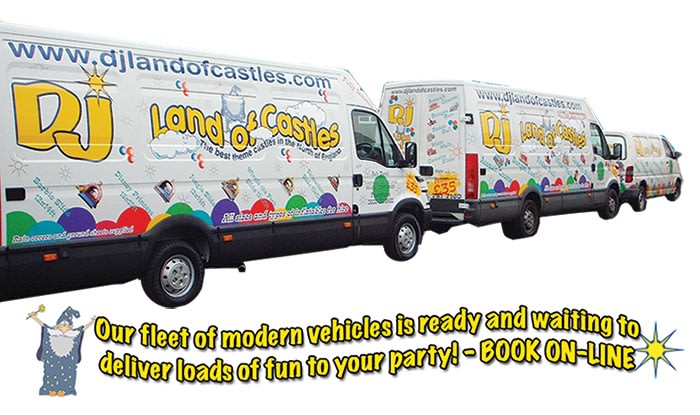 DJ land of castles Vans