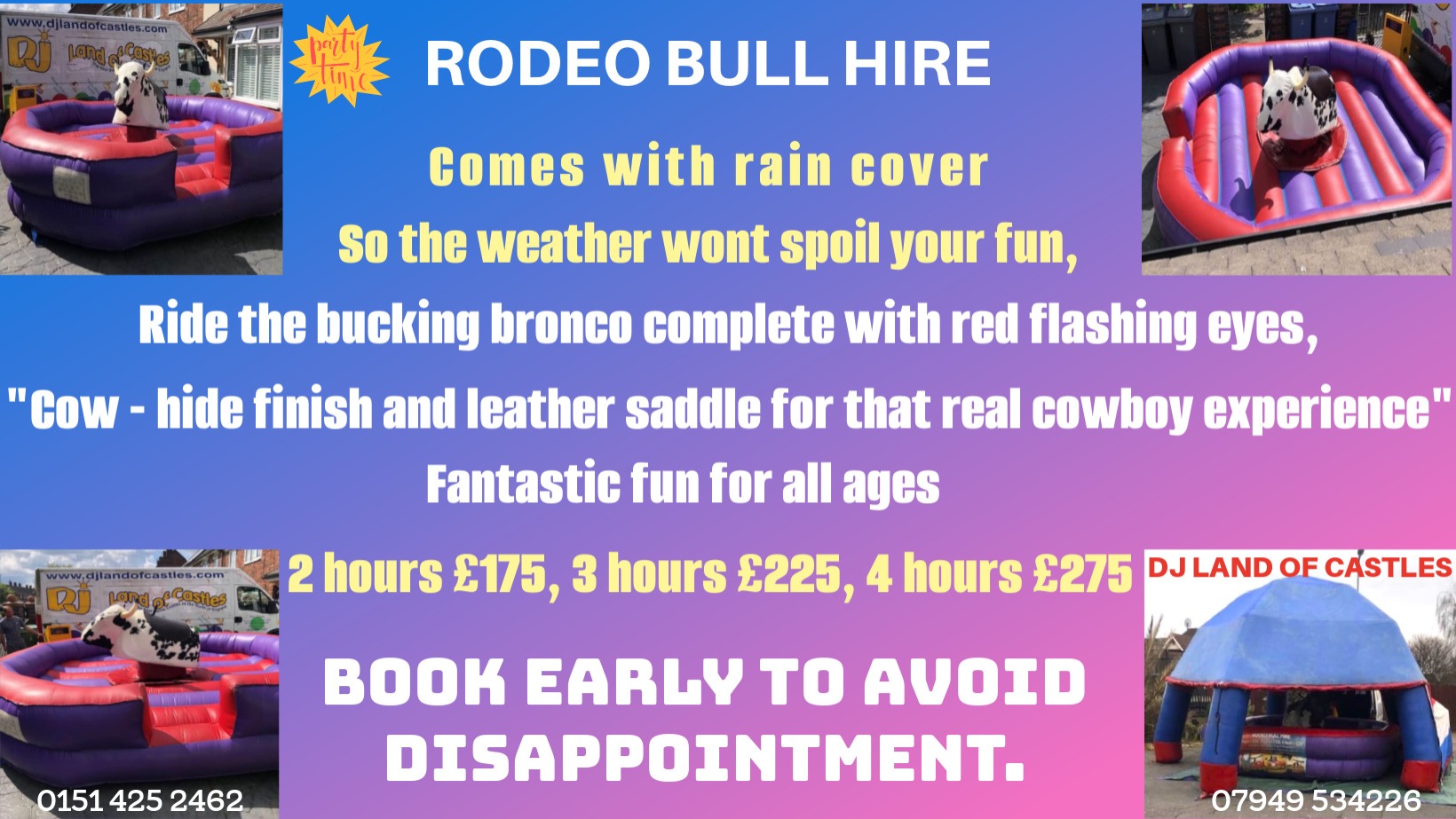 Rodeo Bull Hire
rodeo bull hire liverpool.
You need to pay a £50 deposit to secure your rodeo bull booking,And you pay the rest on set up on the day of your booking
If your date or time is not available when you book are rodeo bull online,please give us a call,As the bull can be booked out more than once on the same day,As long as your time you want is still available for you.
Bring your party to life with our rodeo bull hire! Ride the bucking bronco complete with flashing red eyes, cow-hide finish and leather saddle for that "real cowboy experience" fantastic fun for all! kids and adults.
The bull is controlled by our trained staff for your safety. We are able to adjust the ride to suit all age groups. It bucks and spins and has a large surrounding inflatable castle and also a soft foam head for your safety.Ideal for competitions and challenges as it comes with a digital timer-see who can stay on the longest.
The aim is to stay on the rodeo bull for as long as possible while the machine spins 360 degrees, bucks and moves side to side. The longer you stay on, the faster it gets!
make sure you have 32ins or more gap to get the base of the bull through,As if it does not go in we will charge you for the hire still,so make sure its fit were you want it.Our rodeo bull also comes with a marquee so the weather wont spoil your fun. ITS NEEDS TO BE ON GRASS SO WE CAN PEG IT DOWN,IT CANT GO ON CONCRETE AS IT NEEDS PEGGING DOWN.
Although this is optional if your hiring the rodeo bull for an indoor event you will not need it so let us no if your party is indoors.Or you have checked the weather forecast and its going to rain your party can still go ahead with our marquee cover which goes over are rodeo bull,But needs to be on grass,As needs to be pegged down,so you can still have loads of fun.So book online or give us a call to see how long you can stay on our rodeo bull.We cater for all events and occasions with are rodeo bull hire for kids and adults that includes, Parties, Schools, Clubs, Birthdays, BBQ'S, Weddings, Christenings, Fundays, Sponsored Bounce, Fetes, Social Events, Play Schemes, Youth Groups, Scouts, Brownies, Groups, Company Celebration Days, Corporate and lots more events too.
Our rodeo bull are available for hire to anyone in Liverpool,the Wirral,Runcorn,st helens,Widnes or Warrington.We cover a 10 mile radius from Liverpool Airport without any delivery charge and have a small fee for those outside that range.Use our post code checker on the left hand side for a quote.Hire your bouncy castle from one of the leading bouncy castle hire Liverpool companies today!.
It is available to hire in Liverpool, Runcorn, Widnes, Warrington, Wirral and St Helens. Some of these areas and any further areas will have an additional fuel charge or toll/tunnel charge.Check our delivery checker on our home page,it will tell you if there is a charge in your area.
2 hours =£175, 3 hours = £225, 4 hours=£275 any additional hours will be a charge of £50 per hour.
Our bouncy castle hire includes:Blowers, pegs, ground sheets, raincovers, safety plugs and delivery and collection.
Our payments methods are: Cash (On delivery), Debit / Credit Cards (7 days in advance - please ring), Cheque(10 days in advance - contact us for details.
ARE RODEO BULL HIRE IS CONTROLLED BY ARE TRAINED STAFF AT ALL TIMES SO YOU CAN ENJOY YOUR PARTY
Dj Land Of Castles Vans